Bullet - belt, chrome colored with chrome colored tip
one round is appr. 3,15 inch
length of the comlete bullet-belt from 31,5 inch to 55 inch
the "standard-length" ( 38,5 inch) contains 66 bullets
all components from our bullet-belts consist of metal (no plastic!)
when you need the bullet-belt longer as 55 inch, you can buy single strips of cartridges too
the bullet-belt is nickelfree !!
All bullets are dummy-bullets. The shell was used and has no gunpowder or primer in it.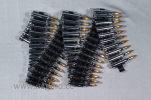 Customers who bought this product also bought the following products:
---

---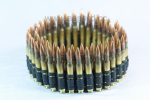 ---
---
This Product was added to our catalogue on Sunday 09 June, 2013.